At last, we have reached the last house in round 3! The final chapter in this round will be dedicated to Harmony Geller and Carson Greene.
Ok, so it's not really a house yet...It's just a yard and a bush.
Harmony:
We don't care. We're just happy to be together.
Yeah, wait until the first time it rains.
Wait, what's your dad doing here, Harmony?
Harmony:
Well, since me and Melody were the last kids in our family, we decided that Mom and Dad would move in with one of us when we graduated from college, so they won't be alone in their house.
And I suppose the extra money...
Harmony:
I never really thought about that, but it will help us out with the construction.
Not a good way to impress your future-father-in-law, Carson...
Make that your current father-in-law...
Harmony:
We just couldn't wait!
Whoa, I guess that extra money helped out more than a little.
Harmony:
So Carson, about our honeymoon...
Yeah, this isn't awkward at all with your father in the room...
You know, most people wait until their wedding night...I'll just step out.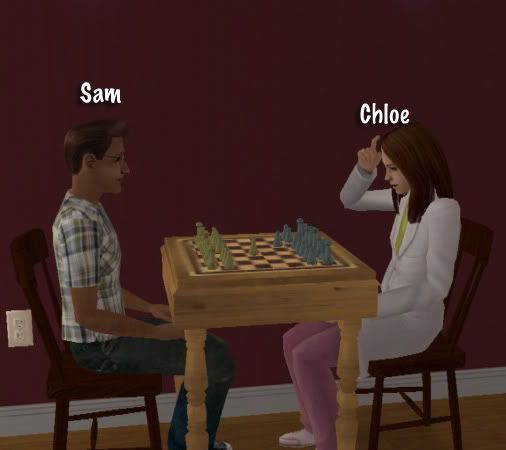 Hi, Chloe! How do you like your new digs?
Chloe:
This house is beautiful! It was so nice of Harmony to let us live with them. We were getting lonely without the girls at home.
Uh-oh...that can only mean one thing!
Harmony:
I was poisoned?
Nope!
What? It's that time already?
Sam:
Are you ready for this, Chloe?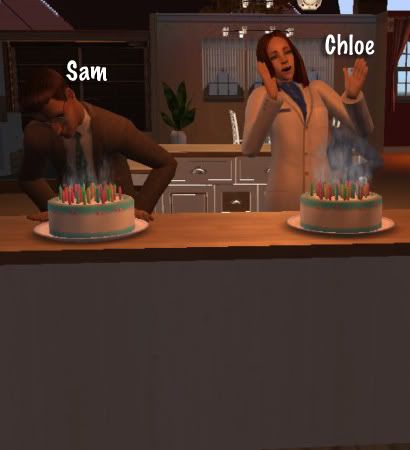 You two might be ready, but I'm not!
Ladies and gentlemen, we have now officially turned a corner in Tranquility Acres. Two of our founding adults just became elders.
Oh, well. No time for reflection now! It's baby time!
Sam:
I'm a grandpa! I can't believe it!
So? Boy or girl?
Harmony:
It's a boy! Steven!
Yup, we've hit the boy spurt!
I see you got a new outfit, Harmony.
Harmony:
Yup.
And I see you're still wearing blue...
Harmony:
Any other color just felt wrong.
Aww, your sister came home with you from work. And...you're dressed exactly alike.
Harmony:
You still can't tell us apart? You've been watching us since we were born!
Have you looked at yourselves?
How do you like being a grandpa, Sam?
Sam:
Well, Steven wasn't my first grandchild. I have 6 others. But now that I'm an elder I feel more like a grandpa.
Plus, you live with this one.
Sam:
True.
Carson:
Come on, Steven...go to sleep, please.
So I guess he's a pretty fussy baby?
Carson:
I don't get it...
I do. He takes after you and your twin.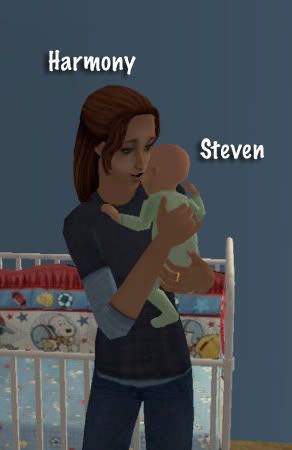 Harmony:
Three more hours...three more hours...
Until what?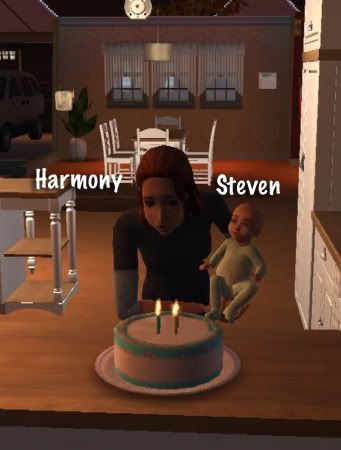 Oh, that. Happy Birthday Steven!!
Another little soccer player! Adorable.
I'm sure his little face is adorable, too...I wish I could see it.
Harmony:
Yeah, we'll probably end up changing that hair.
That was fast.
Harmony:
That smart milk works wonders, plus it's fall.
Ahh.
Moving on to skill number two...
Sam:
We want to use this fall thing while we can.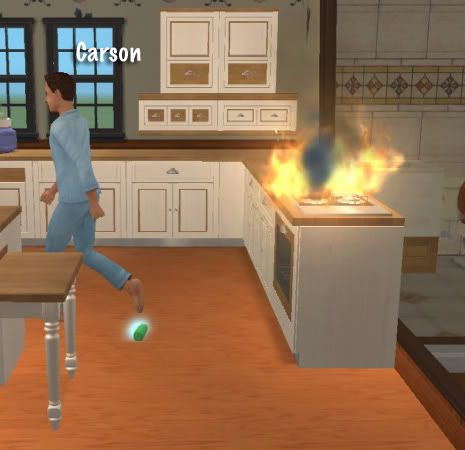 Um, Carson?
Carson:
Just walk away...walk away...
Chloe:
Carson, what are you doing? My daughter and grandson...
Carson:
It's not my fault! It's this stove...
Sure, blame the equipment.
Well, now that the fire is out, on to skill number three!
Chloe:
I still can't believe that Carson almost burned down the kitchen.
And I can't believe that the week is up. And that means...drumroll please...Round Three is Over!!!
Next up, the scorecard!