Welcome to Tranquility Acres! Tranquility Acres was established as a sort of refuge for those sims who, for one reason or another, find themselves "suddenly single" with children. Granted, it has just been established and is pretty vacent right now, but over time we encourage the inhabitants' offspring to set up their own homes here, and judging by how many offspring their are so far it's going to get crowded fast.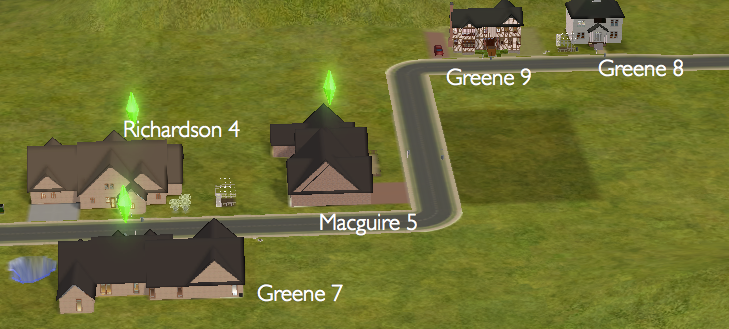 Tranquility Acres is a Prosperity Challenge neighborhood, which means its original inhabitants were decided with the roll of a dice. The "viewing time" for each house is going to be 7 sim days, at least for the first round. I may decided to change it later on. There are 6 original families ranging from 3 to 6 sims. Now without any further adiue, let's get on with the show!
Round 1
Larson 1: Well, this is certainly a great start.
Greene 1: A Week Of Firsts
Richardson 1: Three Men and a Baby
Macguire 1: It takes a villiage...
Geller 1: Incompetent Nannies
Leonard 1: Boys Will Be Boys
Round 1 Scorecard

Round 2
Larson 1: A Very Full House
Greene 1: Wait, Don't Eat That Dessert!
Macguire 1: Another One Bites the Dust
Geller 1: Wait...Who are You?
Leonard 1: You Have Got To Be Kidding Me...
Round Two Intermission: What Happens in College Stays in College
Larson 2: The Twin Spell is Broken!
Richardson 2: Ok, Maybe Not...
Leonard 2: Better Off Alone?
Geller 2: Our Little Em
Greene 2: Somewhere That's Greene
Macguire 2: Persistance Pays Off
Leonard 3: Some Things Never Change
Leonard 4: The Other Halves
Round Two Scorecard

Round 3:
Larson 1: The Tango Maureen
Greene 1: Another Week of Firsts
Geller 1: Wha
t's Wrong With The Sky?
Leonard 1: It's Snowing!!!
Larson 2: All the Leaves are Brown...
Richardson 2: The Curse Lives
Leonard 2: What Else Can Go Wrong?
Geller 2: Mid-Life Crisis...
Greene 2: Will You Please Get Dressed?
Macguire 2: Our Three Sons
Leonard 3: Isn't She...Interesting!
Leonard 4: He's A Family Guy...
Graduation Ceremony: Class of Round Three
Greene 3: It's So Close...
Greene 4: I Can Feel It!
Round Three Scorecard

Round 4
Larson 1: A Very Big Moment
Greene 1: Surprise!!!
Leonard 1: Snow Day!!!
Larson 2: Meet Big Bird
Richardson 2: A Very Interesting Family
Leonard 2: Holding a Grudge
Geller 2: The Geller Girls
Greene 2: Ella's Revenge
Macguire 2: New Additions
Leonard 3: Playing the Feild
Leonard 4: And They Called It Puppy Love...
Greene 3: Family Reunions
Greene 4: It Runs in the Family
Graduation Ceremony: Class of Round 4
Larson 3: The First of Many
Greene 5: An Instant Family?
Larson 4: It's An Obsession...
Macguire 3: Merry Christmas, Happy Holidays
Richardson 3: Here Comes The New Year
Macguire 4: Another Girl?
Leonard 5: What Did I Ever Do To You?
Round 4 Scorecard


Round 5
Larson 1: Welcome Back!!!
Leonard 1: Savannah's Revenge
Larson 2: The Dream is Over?
Richardson 2: Is That Cheating?
Leonard 2: Like Big Sister, Like Little Sister
Geller 2: A Whole Lot of Love
Greene 2: A Change of Pace
Macguire 2: Are You Really Done?
Leonard 3: Teamwork Can Make a Dream Work
Leonard 4: Let
The Fur Fly
Greene 3: A Peaceful Week
Greene 4: A Heartbreaking Milestone
Larson 3: Financial Emergency
Greene 5: Domestic Bliss?
Larson 4: A Green Thumb Runs in the Family
Macguire 3: An Intense Week
Richardson 3: The ABC's
Macguire 4: A Difference of Opinion
Leonard 5: It's Your Fault
Graduation Ceremony: Class of Round 5
Greene 6: Already?
Greene 7: The Town's Going Greene
Richardson 4: A Pleasant Addition

Macguire 5: I Could Use Some Help!
Greene 8: The Twin Curse Lives
Greene 9: Unjustified Anger
Round 5 Scorecard

Round 6
Larson 1: One More Time Around...
Leonard 1: One of Each
Larson 2: Overachiever
Richardson 2: Everybody's Happy!
Leonard 2: A Perfect Fit
Geller 2: The Alpha Sister
Greene 2: Time Sure Flies
Macguire 2: Flowers and Birthdays and Hormones, Oh My!
Leonard 3: First Toymaker to the King
Leonard 4: Going to the Dogs

Unfortunately, it looks like this is going to be the end of Tranquility Acres. Due to a massive nuclear bomb in the region that even the omnipotent  mysterious voice couldn't prevent, all but two of the citizens were lost. Strangely, their houses were left unharmed. As you can imagine, this is very devastating for the mysterious voice. But fear not! When at first you don't succeed, try try again. And that's just what this mysterious voice plans to do. I will find a new town, with new citizens just begging for insightful narration of their lives. But the memory of Tranquility Acres will live on, mostly because I'm leaving this blog up. 
Now, this should be where I go back and add up the scorecard points. But seeing as how I can't compute my final score (when the citizens died, their money went with them) I feel it's best to leave things where they are. Check back soon, and I will post a link to my new town. Thanks for the memories....