We're slowly but surely working our way through the recent Tranquility Acres college grads. Next up are Tyler Macguire and Mia Richardson.
Oh, look, we've arrived just in time.
Tyler:
Mia, will you marry me?
Mia:
Yes, of course!!
Ok, you heard the lady! Let's get this wedding on the road here!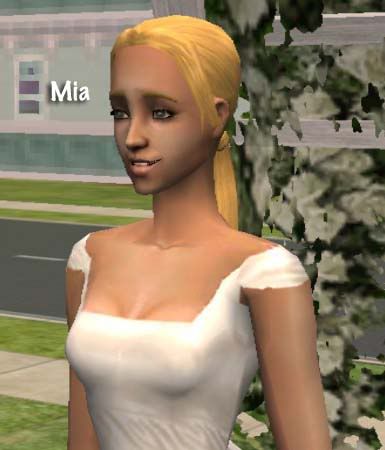 What a beautiful bride you are, Mia.
Mia:
Thanks.
It seems like it was just weeks ago that you were a little toddler...
Mia:
Umm...I think it was.
Right.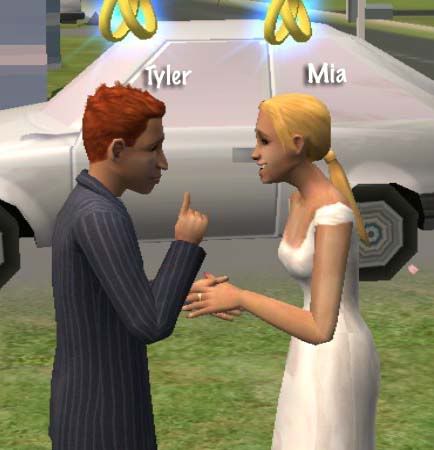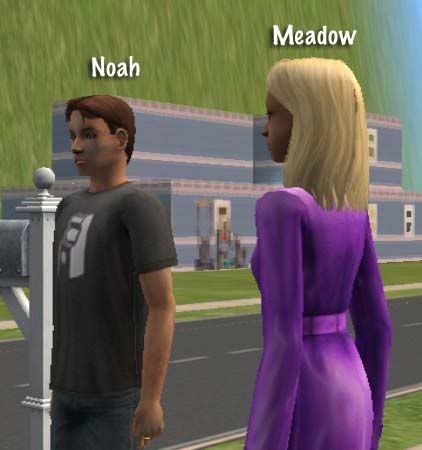 Oh, good. The Welcome Wagon's here five minutes after the wedding ceremony.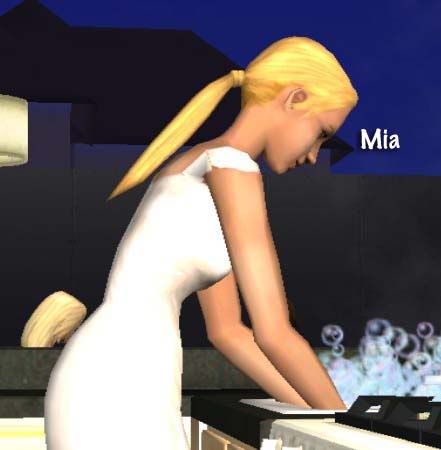 You're washing dishes in your wedding dress?
Mia:
Someone has to do it...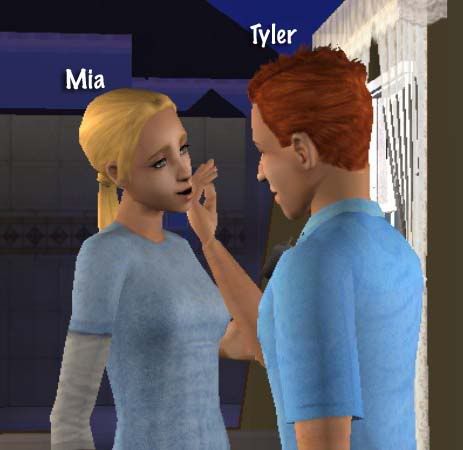 Well, now that everyone's back from the honeymoon...
Tyler:
And work...
Yes, and work, by some sheer miracle...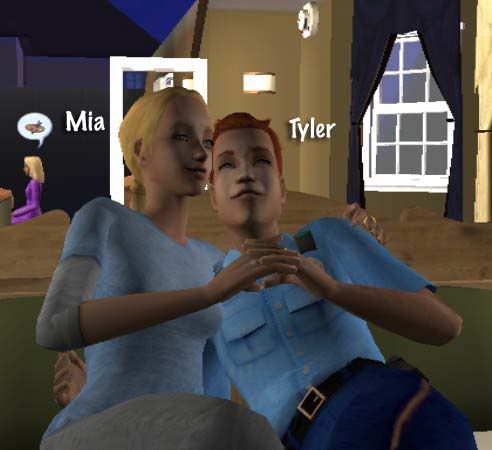 Mia:
Um, mysterious voice...
Enough said.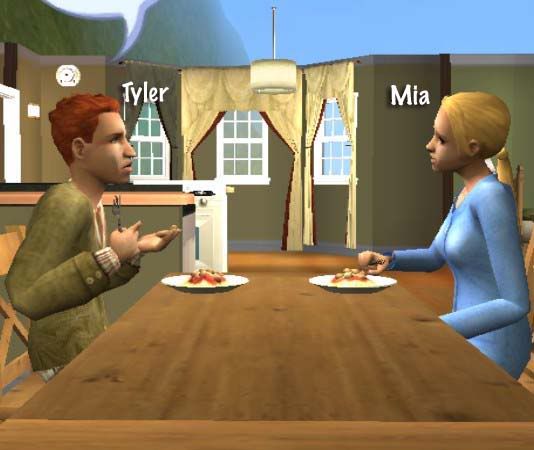 Two Days Later...


Tyler:
So you're staying home tomorrow to take care of the thing?
Mia:
Yeah.
The thing? What thing?
Mia:
It's not really important...don't worry about it.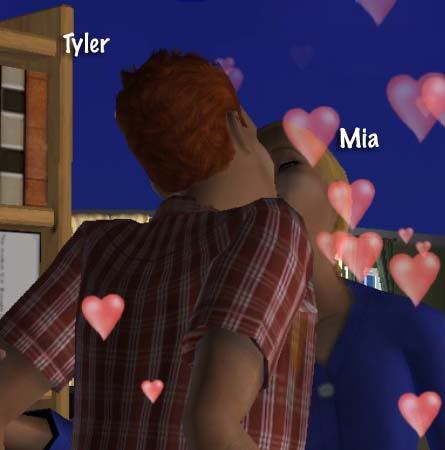 Wait...you two have been married for two days and you haven't had your first kiss yet?
Mia:
It just kind of slipped our minds.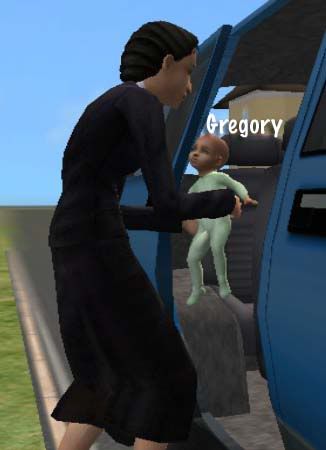 Um, guys...what's with the lady lifting the baby out of a van?
Mia:
We're adopting a baby. We've been trying for days and it's just not working for us.
That's great! Hold on, let me get a close up of little...um...
Mia:
Gregory.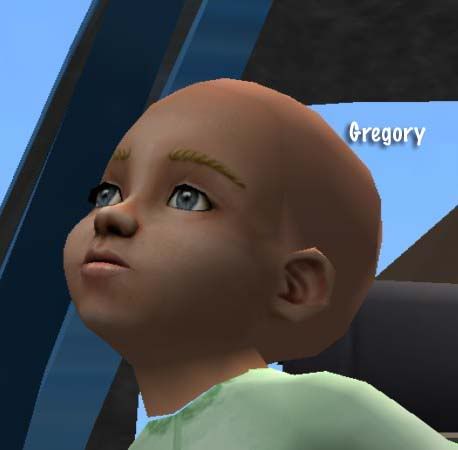 He's even got your blonde hair!
Mia:
My beautiful new baby boy!
Let's get him inside, shall we.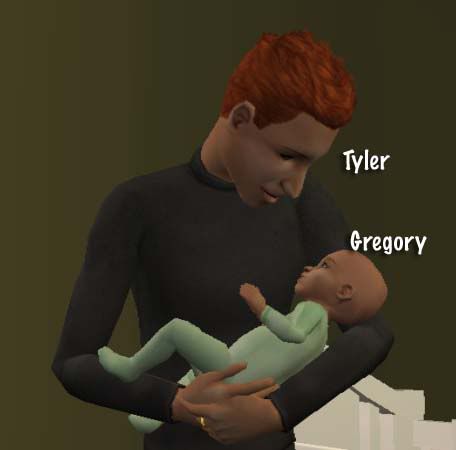 And now Tyler's home and can meet his new son.
Tyler:
He's so beautiful!!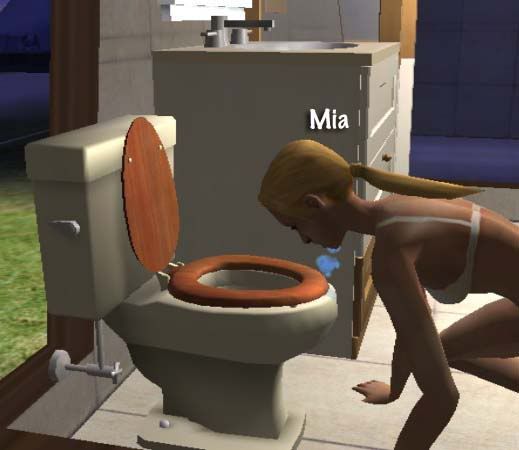 Um, Mia?
Mia:
I think it's just food poisoning.
Ok, whatever you say.
Mia, can't you get dressed before you hold your child?
Mia:
Look, I'm really tired and I'm starving...
Really?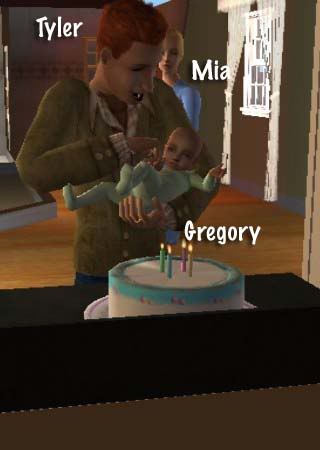 Happy birthday Gregory! Wow, that came fast!
What a cute little boy!!!
Mia:
Who's Mommy's big boy?
Are you guys thinking about having more?
Mia:
Well, I am a family sim...but I don't know if the whole pregnancy thing is going to work out.
I have a feeling it will...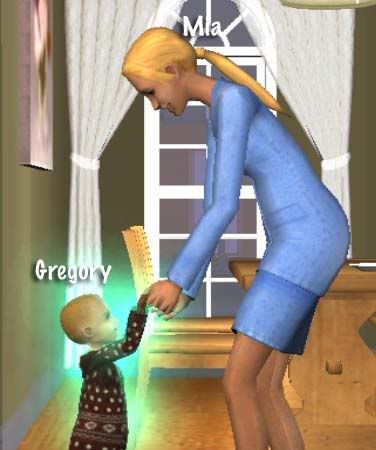 Aww, Greg's first steps.
Mia:
Wait a minute...something feels strange...
So I guess it wasn't just food poisoning, huh?
Mia:
I guess not.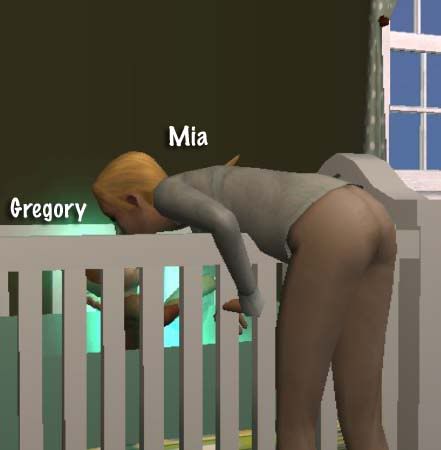 Mia:
Good night, future big brother!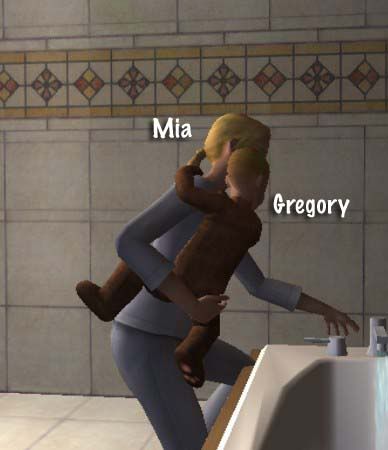 You know, I think you might be the first one I've seen actually bathe a toddler in this town.
Mia:
I thought I could hold out until he grew up but he just smells so bad...
Tyler:
Say bottle.
Having a hard time there, aren't you Tyler?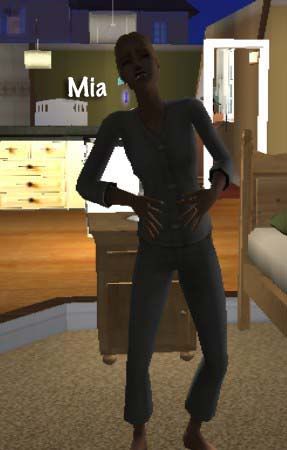 Mia:
Um, I think something's happening!
So, does Greg have a little brother or sister?
Mia:
Brother. This is baby Christopher.
Awesome. What a great way to end my week with you guys. See you next round! Only two more new houses to go-now we move on to the Geller/Leonard twin couples!