Now it's time to go to yet another new house in Tranquility Acres, this time belonging to Christopher Macguire and Mackenzie Greene. Christopher, you may remember, surprised everyone by being born shortly after his parents had adopted his brother Gregory, leaving the two very close in age. Mackenzie was the oldest of three-so far-and grew up to be one of the smartest girls (or guys) in town.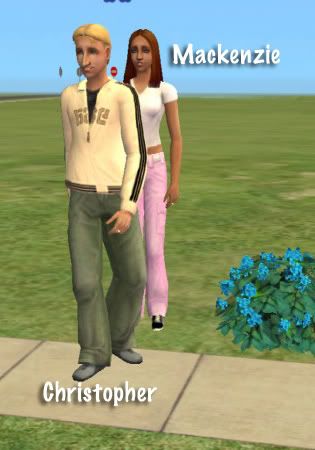 Do you guys always wait for me to start the home construction?
Mackenzie:
It's just not the same without you!
Yeah, sure.
What's Alexander doing here? Shouldn't he be at school?
Mackenzie:
He's taking the day off to come to our wedding.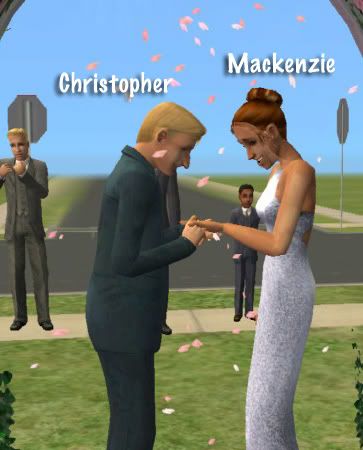 Whoa! That's a very interesting wedding dress!
Mackenzie:
What? It's kind of white.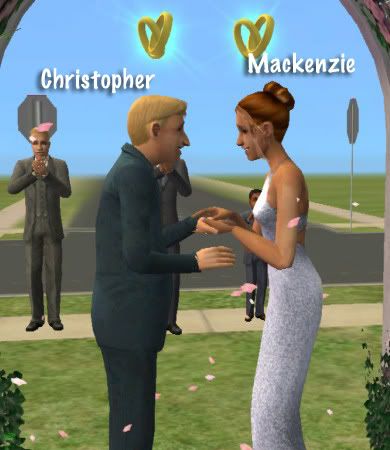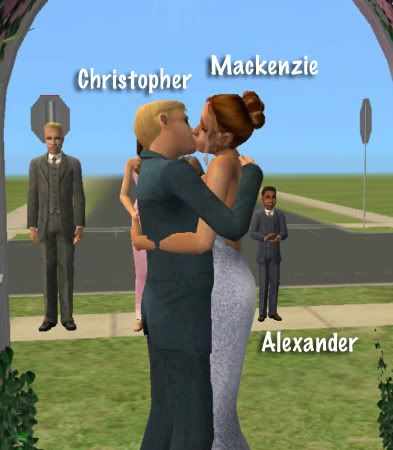 Awww.
Yeah, nothing says I love you like a good pillow fight!
Whoa...um, guys? I think the party's getting a little too rowdy!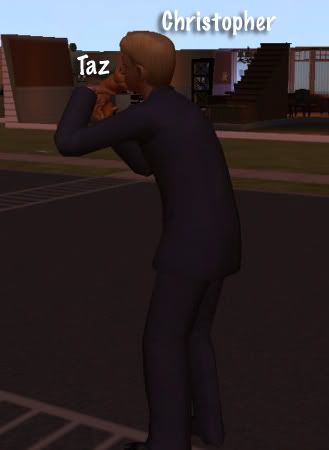 Or you're getting a kitten.
Christopher:
Meet Taz.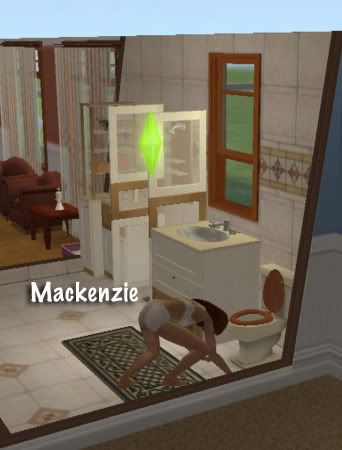 Meanwhile...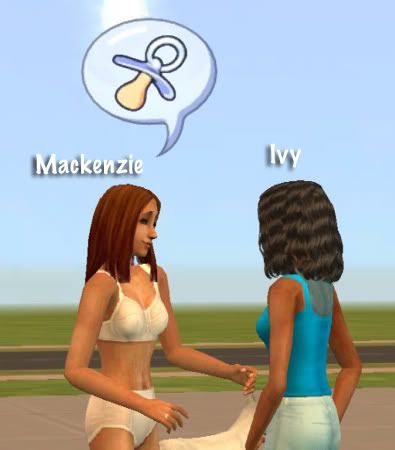 Mackenzie:
Hi! I'm Mackenzie, and I think I'm going to have a baby.
Wow. Not many people would go outside in their underwear and introduce themselves like that...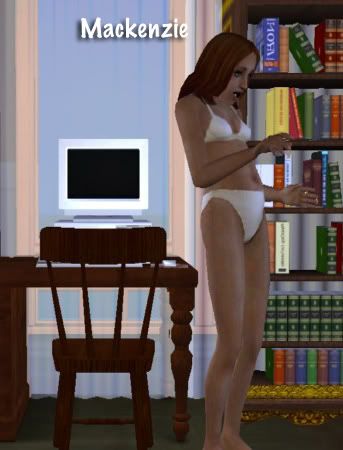 I see you've inherited your parents' hatred of clothing...
Mackenzie:
Now I know I'm going to have a baby!
Thank you, miss obvious.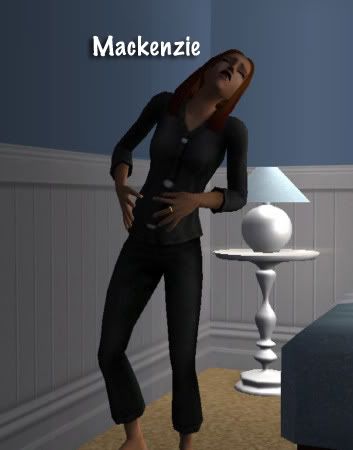 At least you got dressed to give birth.
Mackenzie:
Owww!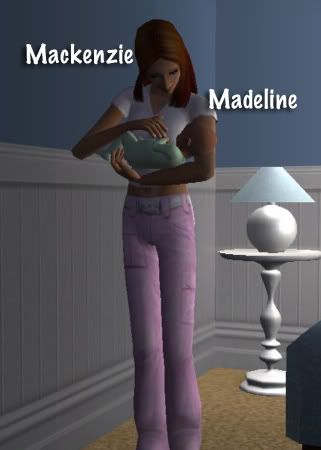 So?
Mackenzie:
It's a girl!
Wow. Thats, let's see...six little girls in a row in the new families. Somebody really needs to start having some boys.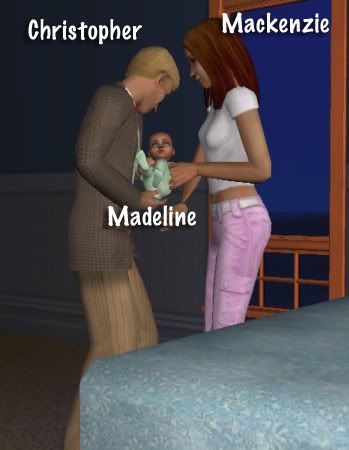 Christopher:
She's so beautiful...
She sure is. Give me a minute, I'll go get the room set up.
Ready to go back to work tomorrow?
Mackenzie:
I don't want to leave her with the nanny. I've seen what they do.
Don't worry. I'll be here the whole time.
Mackenzie:
Oh, that's comforting.
Hey!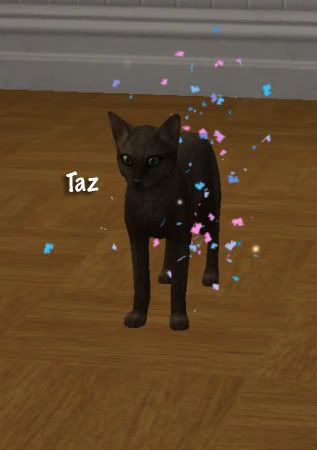 Looks like Taz has been going through some changes of his own. Happy birthday!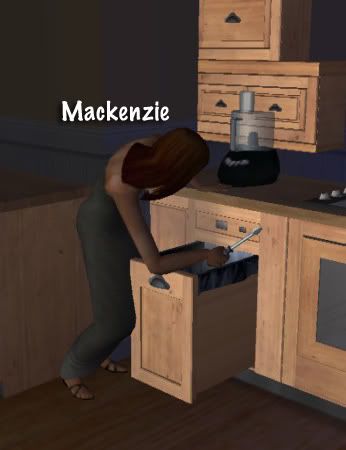 Fixing the trash compactor in an evening dress. Is there anything this girl can't do?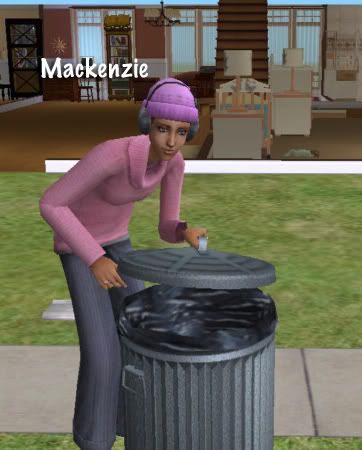 Mackenzie:
Um, I think I'm getting too old for this hat.
Yeah, it's not quite as cute anymore.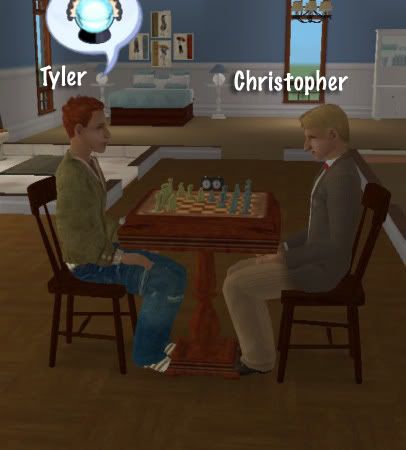 Hey, Grandpa Tyler's here!
Christopher:
He came over for the birthday party.
What birthday?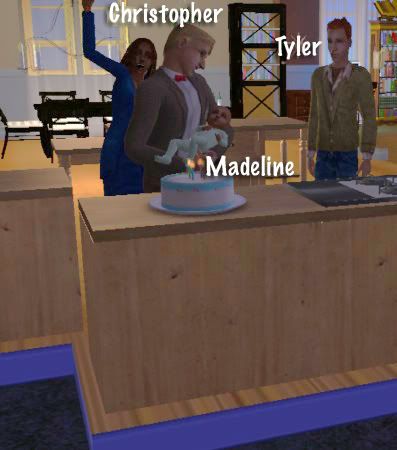 Wow, that sure was fast.
Christopher:
She looks so much like her mom it's not even funny.
Yeah, thankfully she got her mom's nose.
Christopher:
What is that supposed to mean?
Nothing...
Family bonding...hey, Tyler, shouldn't you be at home with your own babies and your flower stand?
Tyler:
Mia can handle it.
Can't wait to get back to your house...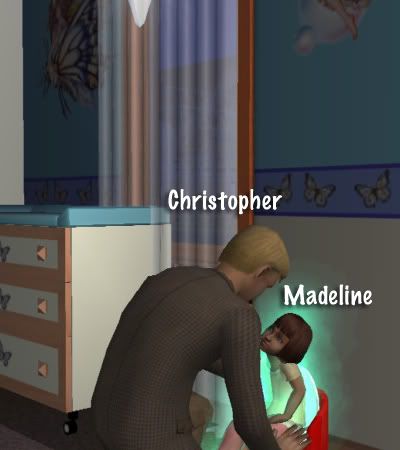 Christopher:
Now really try and focus, honey, and we'll knock this one out too...
It's not a race, Christopher.
Well, that brings us to the end of our week. And that means we've got one more house to go before the end of...
Christopher:
Wait! Weren't there more of us?
I'm glad you mentioned that, Christopher. Because I think it's time for an
Official Decree!